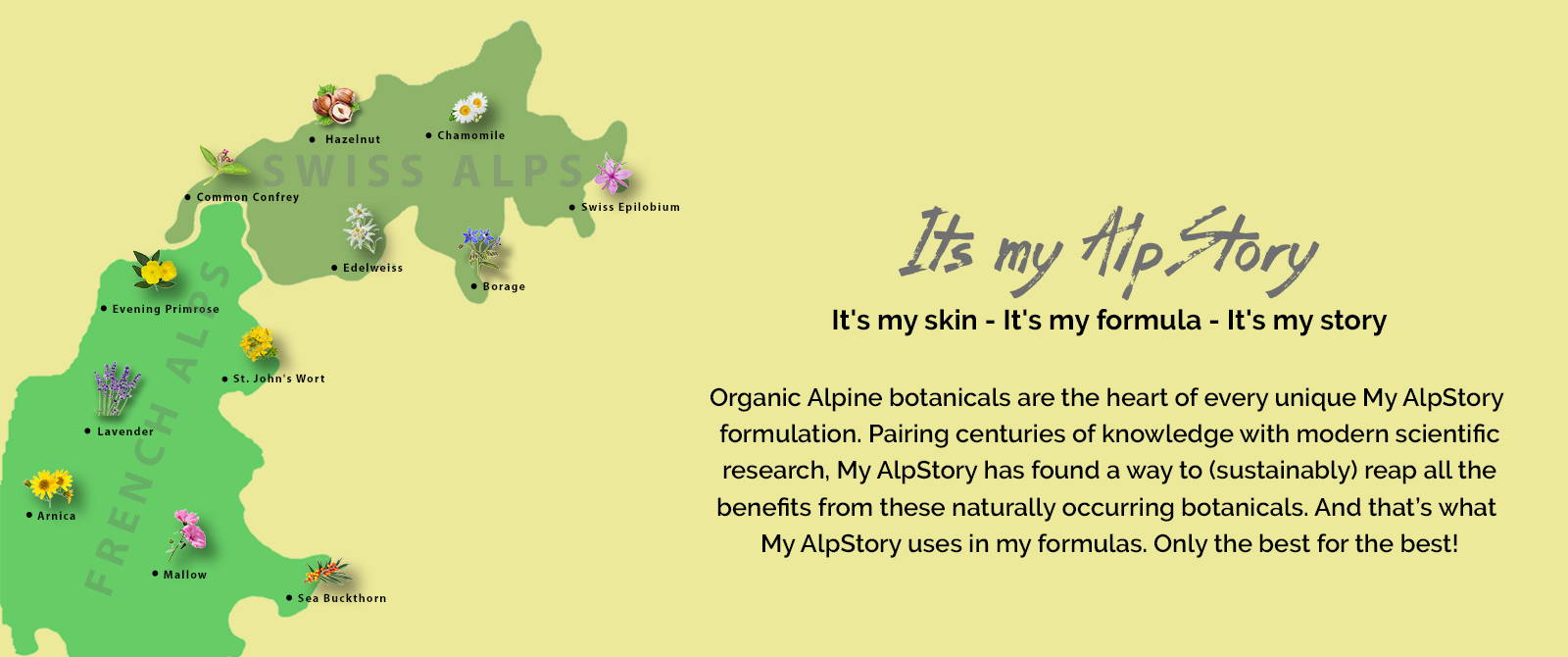 CUSTOM SKINCARE MADE BY ME

My AlpStory was dreamed up to challenge the blanket approach of expensive and impersonal mass production skincare products. Set out to create a line that celebrates and accentuates the uniqueness of each and everyone one of us. I am one-of-a-kind, so my skincare should be too!
My AlpStory leads me through a comprehensive skin analysis to better understand my skin goals. Rosacea? I am covered. Fine lines creeping in? No fretting. I am in the driver's seat – I have the tools to create my own custom skincare product with the click of a button.
MY ALPINE BEAUTY EXPERT IS ASSISTING ME
My Alpine Beauty Expert guides me through my skin analysis, where I learn about my skin type and concerns. My AlpStory has spent years perfecting this algorithym, so I don't have to worry about creating an unbalanced, ineffective blend. Once I've answered all the questions, I will be presented with a custom formula blending just the right combination and concentration of various non-toxic ingredients. In the end, I will have the final say on every ingredient. Not a lavender lover? No stress. My Alpine Beauty Expert will propose other approved choices until I find my perfect match.
High performance purity with clinically validated results
My AlpStory uses state of the art technology and works closely with research institutes and global ingredient suppliers to ensure that formulations remain at the forefront of innovative skincare manufacturing.
Each single active ingredient was hand selected from the latest innovations in dermatology. With advanced delivery systems and potent ingredients backed by science, the combinations work in synergy to target individual skin concerns and goals.
My smart factory - in the comfort of my home
Then I pass the baton to Balthazar, a dual-arm robot and my production assistant. He precisely mixes and measures my formula and seals it with a (surprise!) personalized label.
My AlpStory uses advanced robotic production technology to bring me the purest ingredients straight from the mountain tops, bottled fresh to order, orchestrated to work in harmony with my body and nature.
My AlpStory is committed to bringing me safe and effective organic skincare without sacrificing gorgeous results. Refreshingly pure, just like me.
I don't conform to skincare norms. I dare to think differently about my skincare. My made-to-order blend will reflect who I are today and who I want to be. The future is bright. I can let my imagination run wild, knowing that a trusted Alpine Beauty expert has my back.